Triworx … real fuel for your soul!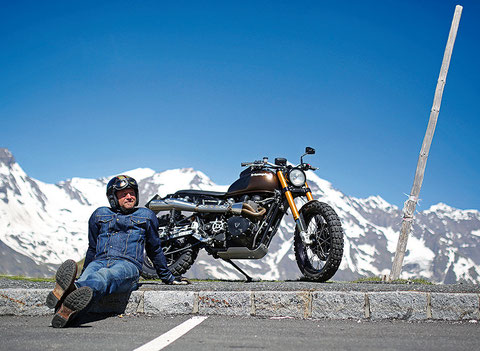 A visionary and a creator – with these two words you can describe Uli Brée very well. His regular occupation is scriptwriter, films and soaps in Germany and Austria, where he is one of the best in his sector. At the same time he loves to ride motorcycles and got into the British motorcycle brand "Triumph". Uli doesn't want to dream his life, he makes his dreams and visions come true. With the invention of the Triumph Tridays, he didn't only get the chief of Triumph Germany enganged, but also gave his name in the motorcycle-scene a grand name.
Not only the Triumph Tridays are one of his visions becoming reality, designing motorcycles, creating fashion and making music are part of them as well. And with this: a new idea was born. This time it should be a brand, a brand that combines all these projects and gives them one name.
TRIWORX is the name for all these things.
Triworx is the feeling of being alive.
Triworx is a way of life.
Triworx is your adventure.